What is it?
"Muscarine or Erica's Trip" is a surreal graphic adventure, created using GRAAL (Graphic Adventure Authoring Language). GRAAL was written by Per Thulin (Performance Software).
What is required to play this game?
An Amiga with Workbench 2.0 or higher is required to run this game. If you haven't an Amiga (so what!?) you could try it out with an Amiga emulator like UAE.
How does it look like?
Below there are some screenshoots from the game which show you some of the hand-drawn, psychedelic, absurd, strange and whatever graphics.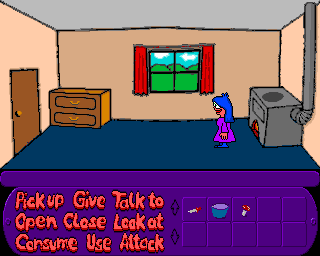 This is Erica's Home, the place where the adventure starts. Everything is quite normal but things will change very soon. Erica's mission is to have fun. Your mission is to guide Erica through her adventure.
During the adventure you'll
visit strange places ...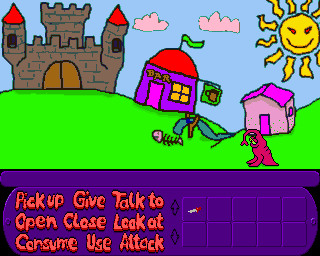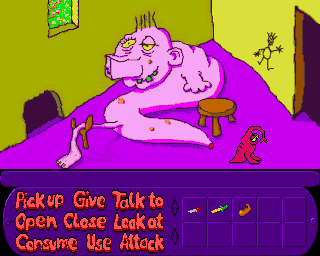 ... meet strange people ...
... and you'll even have an
audience with your king.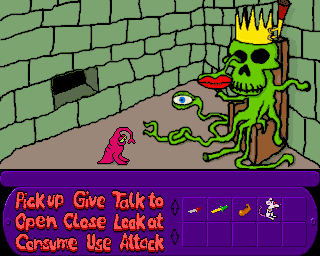 Where can I get it and how much does it cost?
Since the worth of this piece of very high art can't be measured with money, this game will be FREE!
The first two parts of the game are now ready and you can download it here:
File
Description
Size

Muscarine.lha
5th release available since 15. Feb. 2000
1,7M

Muscarine.readme
for additional information
2K

Muscarine_DE.lha
german version - deutsche Version
Benötigt Hauptarchiv Muscarine.lha. Zur Installation der deutschen Version müssen die in Muscarine_DE.lha enthaltenen Dateien in das Verzeichnis kopiert werden, in dem die Dateien aus dem Hauptarchiv liegen. Sorry, es gibt leider kein Installationsskript! Wer hat Lust, eins zu schreiben :)
90K

Muscarine_PL.lha
polish version - needs main archive Muscarine.lha. To install the polish version you have to extract Muscarine_PL.lha to the directory where the english version (Muscarine.lha) is installed.
90K

What else?
If you like this project please contact me: Rainer.Appel@gmx.de (Rainer Appel)
I'm still looking for play testers, musicans, translators, etc. who want to make a contribution for this game.